Campi Bisenzio, FLORENCE, August 30 - September 1
In the era of maximum customization of services and products, EAA could not lag behind. For the first time ever, an event of this magnitude will feature several variations to respond to the profiles, training needs and desire to compare experiences/grow, based on the expectations of each pool professional and their level of preparation. The options include the Masterclass on Aqua-CardioFitness-ACF with the revolutionary HTS, the Special Tech Session that will provide a closer theoretical and practical look at monitoring and technology, at the service of the customer or the aspiring future guest. Without losing sight of the basic preparation in aquatic fitness offered by the totally new Aquafitness New Special Basic course, spread over two days, which leads to the Neonatal Workshop where the common thread will be a comparison of Italian and Australian methods and the development of organizational and business strategies.
In line with the spirit of the event, now at its 22nd edition, there will be two days of masterclasses, rendered unique by the world's most acclaimed and celebrated trainers, featuring free bookable demo spaces and the chance to try out all the most exclusive new features in equipment, activities and applied technologies.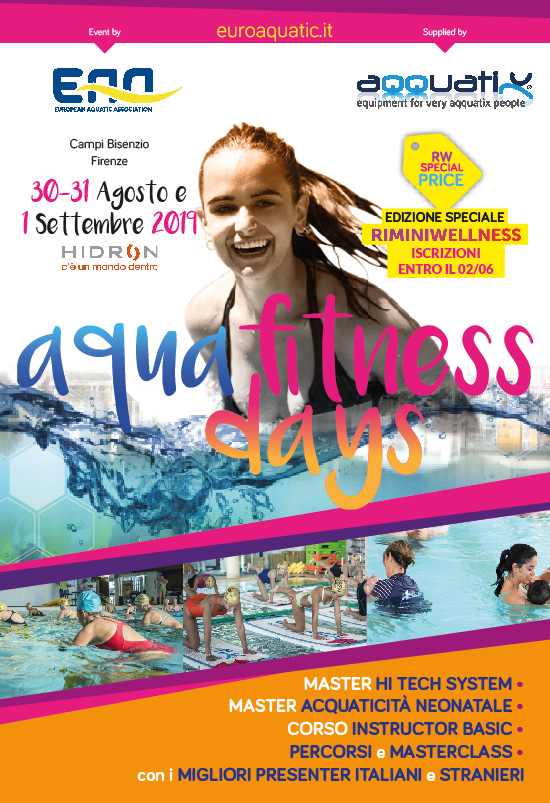 What makes 2019 AQUAFITNESS DAYS truly outstanding, in addition to the venue (Hidron), are the protagonists of this three-day event: Julie Ann James (Aquababies Global Australia), Bacchilega and Borgato (EAA educational area), Cognonato, Confalonieri, Cantarini, Misciglia, Maisto and Gilardoni for technology, monitoring, organisation and management, and the special Aquafitness Basic presented by Benetti and Confalonieri, while some of the foreign presenters will include Romana Crainic (Romania), Tamura Kenichi (Japan), Claudia Contreras (Chile), Francisco Estevao and Joana Nunes (Portugal), Margit Lipsthul (Estonia) and Ekaterina Kapcova (Russia), to mention only a few. We invite you to discover the names of the other stars by visiting www.euroaquatic.it
Featuring customizable courses and rates set by each participant directly online, taking advantage of the very large discounts available if you register by June 30.